The Westerlands
Dwarves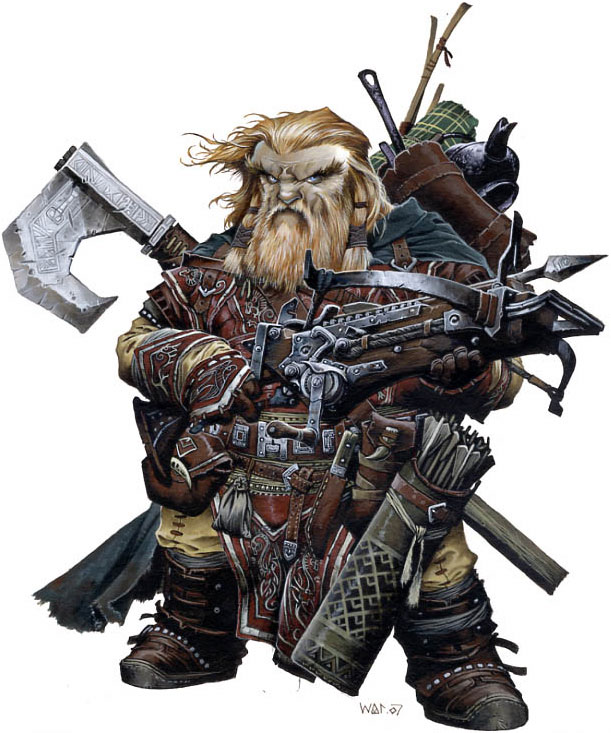 The Dwarves of the Westerlands are master craftsmen, miners and architects who dwell in fortified subterranean holdfasts called dwarfholms. The largest dwarven populations are concentrated along the ore-rich Cloud Peaks, but dwarven settlements can be found in most of the world's mountainous regions. Outside of their home ranges, dwarves find it relatively easy to integrate into human society, often plying a successful trade as master craftspeople among the human cities.
Dwarven society is structured around an extended family unit, or clan. Dwarfholms are generally divided based on clan affiliation, and are strategically positioned in order to protect the subterranean mining resources that makeup the backbone of the dwarven economy. Squabbles between clans occasionally occur when ownership of resources is in dispute. In order to help resolve such disputes without "excessive" bloodshed, the dwarves maintain a great forum in the underground city of Clangathar. The city of Clangathar is considered neutral ground, owned by no clan and all clans, and inter-clan violence is strictly forbidden within its walls. The forum provides a structure for dispute resolution and a way to organize a unified defense of Dwarven interests, should they be threatened by outsiders.
The dwarves enjoy a symbiotic relationship with the surface-dwelling gnomes. Dwarven craftsmen and gnomish engineers often collaborate on elaborate public works or other architectural endeavors, resulting in strong economic and political alliances between the races. The dwarves make use of gnomish technology in their mining efforts, while the gnomes often enlist dwarven craftsmen to forge the basic components of their eclectic feats of engineering.